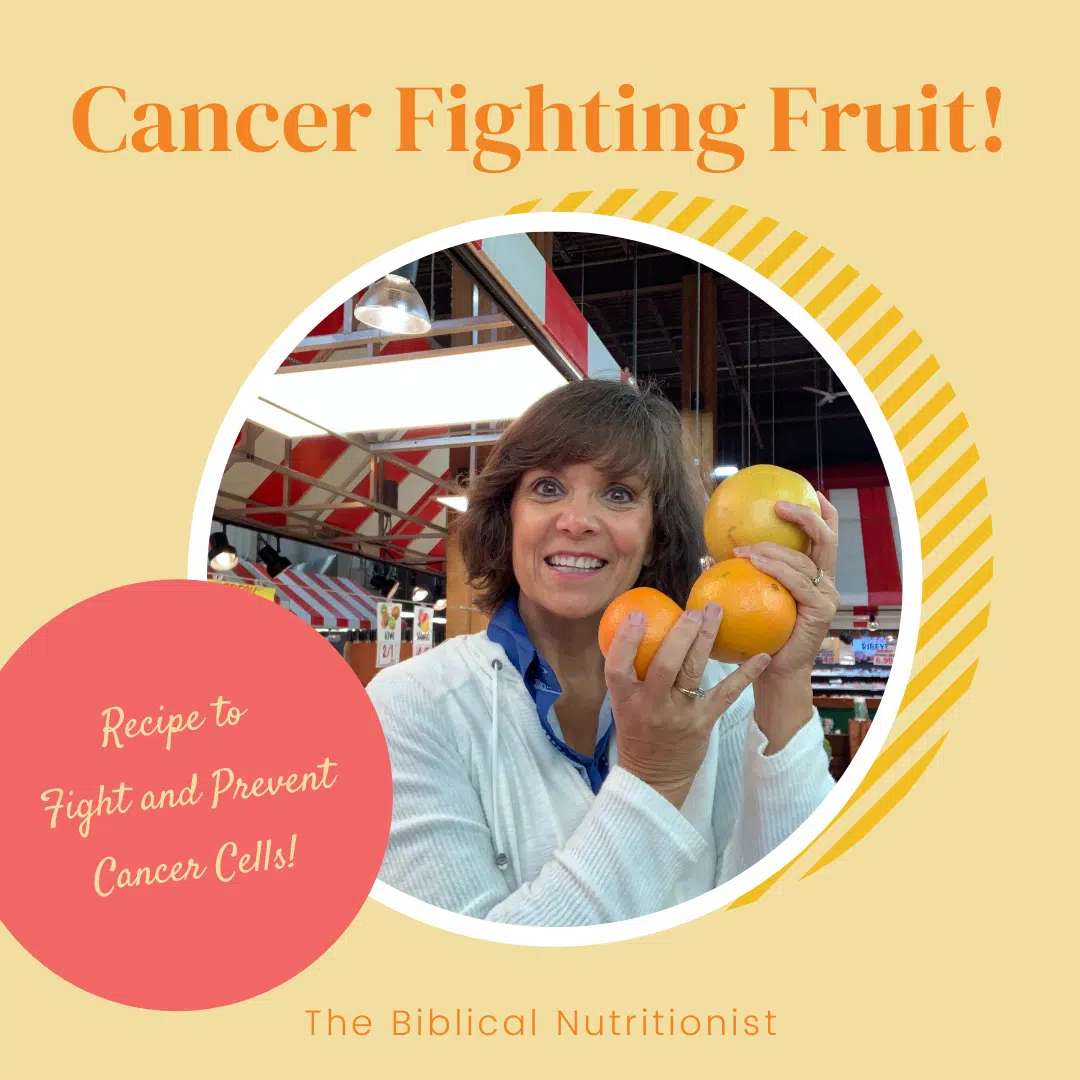 In May of 2020 a study came out from the National Institute for Health discovering that citrus peelings have this anti carcinogenic effect! This means they help fight cancer cells and they help cancer cells to die. Because of this, cancer cells going to get out of your body!
In one of my videos, I talked about angiogenesis and how it affects the growth of blood vessels to a tumor. When that tumor gets those blood vessels, it begins to metastasize throughout your entire body. If you make this powerful elixir and enjoy it twice a day, it is going to help inhibit that tumor growth!
Cancer Fighting Elixir
Ingredients
3

Organic Grapefruit

or Organic Oranges

3

Organic Lemons

3

cups

Purified Water
Instructions
Put the peels in a sauce pot and add purified water.

Cover with a glass lid and bring to a low simmer.

Continue to simmer for 3 hours.

While peels are simmering, juice the remaining fruit. Pour juice into ice cube trays and freeze.

Once your peels have simmered for 3 hours, turn off heat and let cool.

Drain the peels through a strainer and use a spoon to get remaining liquid out of peels.

Pour into glass bottles and store in the refrigerator for up to one week.
How to I Take Cancer Fighting Elixir
I add 1 ice cube of juice and 2 tablespoons of peel water to my tea two times a day. You could add to water or your favorite juice of choice.
Share on Facebook
Share by Email
Stay On Top of Your Blood Work
Those with a high Vitamin D level – above 70 are faring the best during COVID. In fact, the same is true for cancers, those with high Vitamin D are less at risk for certain cancers.So – Test – then Retest in 4 months – then retest in 4 months until you are at the level of 70 ng/ml.Also on this Suggested Blood Work you will see test that start with CA and followed by numbers. These are cancer screenings. Most doctors only do this after you have cancer to track the success of treatment. That is silly. Why not test regularly to prevent treatment.My case in point is. In 2010 I had lung surgery where they used a carcinogen to seal the lung to the lining. This carcinogen causes uterine cancer. So I have my CA levels checked to see if the number rises.Well, one time it did go up. I was very upset because I had laxed on my vitamins and eating plan. So since the number was up I changed back to my best vitamin and eating plan – tested in 3 months and it was back down. Without testing – I would not have known how fluctuating this number can be.Your blood work can be a life saver! AND best news of all – you can order these yourself. Learn more on my Blood Work page!
The Scale is a Tool to be Used – Daily
When I worked in Oncology patients would say: "I just started gaining weight and was tired all the time." Or "I just started losing weight and I don't know why."
These statements are an alarm.
You should always know your weight and stay within 3-4 pounds all the time. Unless of course you are working on losing weight to be more healthful.Inflammation causes weight gain. Cancer causes inflammation (weight gain) and also feeds from inflammation. ALARM!Cancer will starve cells of nutrition which can lead to weight loss. ALARM!
If you are losing weight and not trying – ALARM!
Contact your health team if you have concerns about your weight!
Learn more about our private Inner Circle Video Coaching Group!
Your Beliefs Matter!
In the Gospel written by John the word 'believe' is used over 100 times. Belief determines behavior.
Daily we need to do a mind check. Where are my beliefs leading me? What am I focusing on? Who am I giving more time to? What do I believe? This can be monitored through the Hunger Satisfied Journal.
When beliefs are left unchecked they tend to float after some hair-brained idea shared with you. They tend to follow the latest idea you are prone to listen to.
Unless you are daily in the Word and checking to make sure your beliefs can be verified with The Word – you are prone to wander, Lord I feel it.
Let's finish this race well! Let's be at the best health possible as we lay aside our former manner of living and continue in the renewed spirit in our mind. God loves you!