When it comes to tomatoes, most people choose red over yellow. But did you know that yellow tomatoes have some unique benefits?
Both red and yellow tomatoes contain beta-carotene, which is important for eye health, hormone function, and skin health. They also contain vitamin C, which is an antioxidant that helps protect the body from damage.
Yellow tomatoes are sweeter and less acidic than red tomatoes. This makes them a good choice for people with acid reflux or acid indigestion.
Plus, they can be used in a variety of recipes, including salads, sandwiches, salsa, and soup!
My favorite way (which is both delicious and fun) is fresh salsa.
So, today I am sharing my super-simple yellow tomato salsa, which only requires six ingredients and takes about five minutes to make.
Ready?
Let's go!
How to Pick the Best Yellow Tomato for Salsa
First, here are my quick tips for choosing the best yellow tomato – specifically for making homemade salsa.
We want our tomatoes to hold their shape when they are chopped up.
So, when choosing tomatoes, look for ones that are firm and have a bright color. Avoid tomatoes that are soft, bruised, or have blemishes.
Next up, how should tomatoes be stored?
How to Store Yellow Tomatoes
Like red tomatoes, yellow tomatoes should be stored at room temperature until they are ripe.
Once ripe, they can be stored in the refrigerator for up to a week.
This is important to know, especially if you enjoy stocking up on veggies like me.
This recipe mix is delicious as is, but if you want to add even more flavor, check out these other ingredient ideas:
More Tasty Yellow Tomato Salsa Ingredients
Fresh cilantro, chopped
Fresh lime juice (or bottled lime juice, whichever is available)
Red onion (swap out the yellow onion for red onion for more color and a distinct taste)
Orange tomatoes (use both yellow tomato and orange tomato for extra flavor, color, and health benefits!)
Kosher salt (all Redmond Real Salt is kosher-certified!)
Maple syrup
Heirloom yellow tomato
Sweet peppers
Jalapeño
How to Enjoy Yellow Tomato Salsa
There are so many ways to enjoy this tasty, healthy yellow tomato salsa. You can have it on its own or with chips, on top of a salad, or even paired with other veggies.
Topping haystacks with this salsa is another delicious idea. Pile a plate with tortilla chips, finely chopped lettuce, pico de gallo, pinto beans, and tomato salsa. Squeeze some fresh lime juice on top and dig in!
Final Thoughts
For more simple recipes like this one, check out my collection of delicious, Bible diet-approved recipes. From easy fig bars to my favorite baked fruit delight, there is something here for everyone!
Now, I have just got to know...
Have you ever tried yellow tomato salsa before?
Pin this recipe for quick reference, or print it out to add to your collection! This is a timeless classic you'll want to come back to over and over again.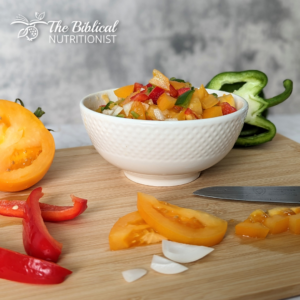 Yellow Tomato Salsa
Ingredients
5

cups

Yellow Tomatoes

chopped

1

Yellow Onion (small)

chopped

2

Bell Peppers (variety of colors)

chopped

2

Garlic Cloves

minced

¼

teaspoon

Black Pepper

1

teaspoon

Real salt
Instructions
Mix together ingredients and enjoy!
Nutrition
Calories:
38
kcal
Carbohydrates:
8
g
Protein:
2
g
Fat:
0.5
g
Saturated Fat:
0.1
g
Polyunsaturated Fat:
0.2
g
Monounsaturated Fat:
0.1
g
Sodium:
419
mg
Potassium:
436
mg
Fiber:
2
g
Sugar:
2
g
Vitamin A:
1243
IU
Vitamin C:
64
mg
Calcium:
23
mg
Iron:
1
mg
Share on Facebook
Share by Email